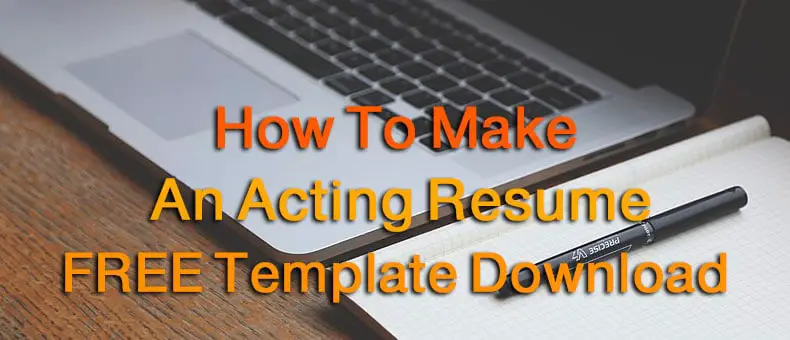 Table of Contents
What Is An Actor's Resume?
An acting resume is a document that you make use of when applying for a Job in the Movie, Television, Networks, Stage, and commercials as an actor. The structure of your acting resume can make casting directors and producers turn to your direction. So, you must do your best in making your acting resume Professional.
Just before you begin your acting career proper, there is a need to gain some Local acting experiences, you should try joining drama clubs, community theatres, Local student film production, acting workshops or classes that will help fill your experience column in your acting resume.
NOTE:
An acting resume is the second most crucial thing that you need to begin, the first is your
acting headshot
.
In creating your acting resume without experience as a beginner, there is no other short cut than to be experienced even if its a little bit, just so you are able to write your resume.
The below subjects are covered in this article
What To Put On A Beginner's Acting Resume?
How To Format An Acting Resume?
Important Tips For Building Your Acting Resume
Download Free Acting Resume With No Experience Template
Conclusion
What To Put On A Beginner's Acting Resume?
Even though you are a beginner, your acting resume is supposed to show that you are a Professional. As an actor, you may have been trained to stand out, but in making your acting resume, you have to follow the trend.
NOTE: If you try to be exceptional with your acting resume, you'll make your self look like a novice and desperate. Trust me no one would want to hire an actor like that.
Follow this guide thoroughly and you'll be sure to make the most suitable resume for you, so 13 entities you have to put on a beginner's acting resume;
Your Professional name.
Union affiliations and agency (if any).
Your contact information and emails.
Credits.
How experienced.
Acting Brand.
Your Agent's Contact Information.
Resume Objective.
Education.
Workshops and Training.
Special Skills.
Awards and Accolades.
Your Headshot.
Your professional name: It should be written at the top of your A4 paper. Your professional name is your stage name, and your resume should not be without your stage name. It is the first character on your resume.
Union affiliations and Agency: Input the union affiliations or talent agency where you belong, if there's none, move to the next. Don't write "none" or "nill", as that could make casting directors see you as an amateur.
Your Contact and Email address: Your contact, which can be easily accessible, is required and your valid email address. This only applies when you don't belong to an agency yet. Your personal contact won't give you so much credit or advantage, because not belonging to an agency make it evident to the casting director that you are a beginner. It is always better to join an agency or get a talent agent.
Credits: Your educational credits and career credits should be listed in order of importance. This should start from a professional credit (If any) to Your regional credits, to Educational credit (college), to staged readings, followed by new workshops and play, then to film/Tv credits.
Experience: Put down your experiences in the acting profession no matter how little. Here you can bring in your high school stage-acting, experiences in drama clubs, community theatres, acting classes, workshops, and even personal auditions. No acting experience should be overlooked, every time you had to play a role is a part of your experience. If you don't have any experience you might want to have a rethink, how are you sure acting is what you want to do?. Don't try to put down things that didn't happen; you'll definitely be caught.
Your Agents' contact information: Your Agents' contact should follow. You should not begin your acting career alone, get an agent because they always have access to more Jobs than you do.
NOTE: A casting director would always prefer to go through an agent, as they most times need someone else who would reassure them that you are a professional. You would always need someone to speak for you.
Resume Objectives: This is a heading of 3-4 sentences where you describe your professional goals and what you hope to achieve in the job or role you are applying for. A properly written acting objective will tell the casting director or the recruiter that you are just the right one for the job.
Acting Brand: Putting Down your acting brand makes casting directors and Producers take you seriously. No, it doesn't make you look desperate; rather, it makes you Professional.
Education: Your Educational qualifications, name of your school or academy, name of your teacher (for college only), Basic and High school qualifications are not recommended.
Workshops: and Training- Here you mention the List of workshops, acting classes you've attended. There's no need to assume things or forge; they'll definitely find you out. The truth can't be hidden forever
Special Skills: This can be anything, Just to let your employers know your uniqueness. Your special skill can be putting a biro on your nose, playing musical instruments like the keyboard, guitar, saxophone, etc.
Awards and Accolades: All your awards over the years should be included, and this can attract casting directors and cause them to consider you for a contract.
Your headshot: This has a massive way of determining whether you'll be hired or not. your headshot is always attached to the actors' resume.
How To Format An Acting Resume?
Your actor's resume must be in the right format. A poorly formatted resume shows that you are unserious about your career. I'll show you the right pattern of formatting your actor's resume.
Your name and Contact: Your name should be written at the top center on the A4 full paper, followed by your email address and website, if you have no agency. This could be followed by your status, i.e. (height, weight, hair color, eye) these are not really necessary except they are demanded by your Talent agent, seeing that they can disqualify you from an audition.
Format: There should be three columns in your actor's resume; each column should line up on the left with 11-12 fonts and 1.0-inch line spacing. This is because you'll be attaching your actor's resume to your head short; the paper size should be 8 X 10 inches.
Categories: Your categories should follow this order, if you don't have credit in any of them omit it, don't put it down.
Film/Movie: The name of the film and roles played. At the end of the column put the name of the Director and production company. If it's a high school production, Mention the name of the school, don't put FEATURED or name of the characters on your actor's resume.
Television: Mention the TV shows and the roles in them, either co-star, guest star, series regular. In the right column, write down the Network or Production company. Similarly, you should not add Featured to this.
Theater: The show, the Part you played, and the location of the theatre.
Commercials: If your commercials are so much you don't need to put them all down, you can just write – Commercials are available if any request is made.
Training: List the Type of Training you underwent, the name of the studio, and your teachers. Be truthful, as any form of lies would lead to your disqualification.
Skill: List any skill you've got, mainly for commercial purposes.
Emailing: Preferably, You should email your resume in PDF format, so that it will be accessible on any device and will not get disorganized when opened.
Important Tips For Building Your Acting Resume
Your resume should be on one page.
Don't lie or exaggerate on your resume, as you'll get caught.
Keep your resume simple- leave a lot of white line spaces; your resume should not be packed.
Don't try to be Funny.
The color of your resume should be black.
Don't put personal information, like your age, social media info, or home address. You can share that when you're hired.
An example of a good and Properly formatted acting resume.
Download Free Acting Resume With No Experience Template
Free acting resume for potential career actors who Just finished from an acting degree or with no experience. Use this acting resume Template and Samples to create and Format your acting resume that will get you a Job.
Actors Resume Template – CLICK FREE DOWNLOADFree Download your acting resume editable template
Conclusion
After your resume is ready, your Talent manager should have a copy; you should never leave your house without a copy attached to your headshot, you never know who you'll meet right there. You should always be ready at all times, just in case you receive a call for an audition or even a film shoot.
Keep these in mind; your acting resume must not exceed one page, there's no need of putting down your age on your resume- that could be a turn-off for Casting directors or Producers.
When are you asked how old you are? Your answer should be – how old do I Look? whatever the answer becomes your age. Your looks matter far more than the numbers. So Long as you are Legal (Up to 18 years of age), you won't have any issues concerning age.
As you grow in your acting career, you may begin to have more than one acting resume with different formats to fit into the role the Producer wants. For instance, you are auditioning for a role in a TV show or film; you need your on-camera credits on top and your stage performance below, the most important credits for the auditions should always come first.
Share this article below if you believe people need to know about it … 🙂