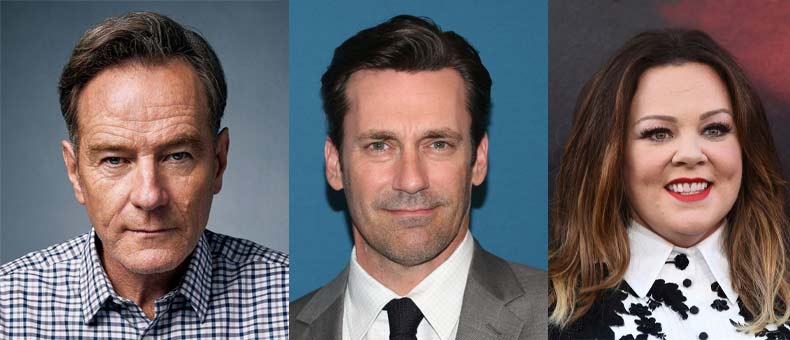 For an actor, one of the best ways to get the attention of casting directors (CDs) is to have a great acting agent.
Wouldn't it be nice if you were noticed as an actor on the street or at a party?
Then a casting director or talent agent will assign you a project and voila! You are a successful actor.
Unfortunately, many actors are drawn to this myth, which paints a very alluring and alluring picture of the acting industry.
Studies have shown that in fact, about 90% of actors are unemployed, and only 2% of actors make their living acting.
A lot of actors like Bryan Cranston, Jon Hamm, and Melissa McCarthy break out in their 30s and 40s, and they were filming long before that.
It just goes to show that getting noticed as an actor and becoming a working actor is not an easy task, although it is achievable.
NOTE: All well-known and successful actors start out casting in small or supporting acting or extras roles before they get noticed for the big lead roles.
You must first introduce yourself through small roles and gradually work your way up to larger and more complex roles.
Table of Contents
#1 – Get An Agent
For an actor, one way to get the attention of casting directors (CDs) is to have a great acting agent. It is not enough to have an agent; you also need to build a strong relationship with your agent.
This means that you should visit your acting agency at least once a year and meet with them to discuss your plan.
They should talk about what kind of work you want to get and how they can help you in your acting career. This shows them that you are initiative-taking, which is what a quality agent is, notice and appreciate.
Nailing your audition as an actor
When you get to an audition, you will be noticed by your acting agent and your CDs.
Typically, this means being well prepared and showing off your acting skills, being on time, following the CD's instructions and being able to paraphrase your lines easily, being professional and polite, and thanking the CD for your time.
#2 – Market Yourself
As an actor, your unique brand is what grabs attention. Your personal brand is your unique look, life experience, and personality that you bring to a script or material, as well as the image when your fans, producers, CDs, and other viewers associate with you.
In acting, the word "brand" is sometimes seen as a word that is used a lot and has no real purpose. Think about the essence or personality that each brings to the role. It can be a certain intensity, directness, wit, or perspective.
This is the hallmark of an actor. You need to highlight your strengths and your unique qualities to stand out and get noticed in this crowded industry. The main thing is to get people to associate your name with your personal brand, to do this, you need to give a consistent tone and look at all your marketing materials and online profiles.
NOTE: An effortless way to achieve this is to use the same username, photo, logo, color, and design on your website and social media profiles.
How To Market Yourself?
Acting Resume
If you are wondering how to get noticed as an actor and make your acting resume stand out from the thousands of regular acting agents and casting directors, you browse every day.
First, your resume must be in the correct format and have the correct terminology so that CDs or agents can view it. If you have films, your roles should be major or minor.
NOTE: For television shows, your roles should be a regular season character, a recurring character who appears in multiple episodes, or a guest star or co-star who has a short line or two. If you are a theater actor, your roles should be the names of the characters.
Showreel
Your showreel should be dedicated to your performances, short (1-2 minutes) and high quality.
NOTE: Casting Dkrectors want to see your face first when your demo starts, and they want to see your latest and greatest work right away.
Casting Networks
Whether you have an active agent or not, you must register and be active on casting sites.
This is a professional way to make yourself known in the acting industry.
Social Media
Whenever an actor is considered for a role, CD and other professionals look for him on the Internet, ranging from Google to other social media profiles such as Facebook, Twitter, Instagram, YouTube, etc.
#3 – How To Get Noticed As An Actor By Networking
The best way to make contacts in the industry is to get involved. Networking events give you the opportunity to meet professionals such as directors, producers, writers, fellow actors, and more.
NOTE: One of the most effective ways to gain attention and sign up for auditions or get involved in projects is to get referrals from the right people.
To be clear, networking will never replace great acting, which means constant acting learning and perfecting the craft is more important.
However, by making connections and meeting the right people, you can often find hidden opportunities that you might otherwise have missed. Remember that the most interesting people are those who are interested in other people. So, show genuine interest in the people you interact with.
You will also learn from other people's experiences in the industry: who to trust, who to stay away from, what people to work with, what companies to avoid, etc.
#4 – Auditions
When listening, it is important to develop the right point of view.
Do not watch an audition and treat it like an interview because it puts you in a position where you want or needs a job.
#5 – Short Films & Student Films
Student films are a wonderful way to gain experience working on sets, writing scripts, and collaborating with other actors, producers, and directors.
Unlike professional productions, you have more opportunities to gain experience, ask questions, and experiment with your acting. B. Play roles that do not fit your acting type.
Student films and short films are also a wonderful way to keep working and improve your acting skills while you are not working or auditioning.
#6 – Be Confident
Actors who excel in their auditions and roles in projects have a certain confidence and composure. They do not apologize or project needs.
In general, their performances are natural, and they are present and involved in every moment of their performance.
#7 – Bold Performances
Often, directors want to collaborate with actors who make interesting choices because that is what is going to be in front of the camera.
A director will always remember and notice an actor who brings a unique look or performance to a role.
#8 – Take Acting Classes
Acting lessons will help you learn new concepts, and reinforce acting fundamentals and techniques to improve your acting skills.
Courses such as acting, training, and voice development allow you to become a versatile and confident actor.
Learning how to audition from experienced actors who have played many roles will also help you identify and correct your flaws and weaknesses.
Acting lessons will also help you develop confidence in your acting skills by giving you many opportunities to perform in front of your class.
Another reason you should take acting classes is that they constantly expand your comfort zone and break down your inhibitions, making you an accomplished and confident actor who stands out from the competition.
#9 – How To Get Noticed As An Actor By Creating Your Own Projects
Writing, playing, and filming your own projects is a wonderful way to grab attention.
This not only highlights your talent as an actor but also your originality and creative eye as a complete storyteller.
If you want to be perceived as an actor, make sure you pose as the leader of your own projects.
Do not forget to mention your projects in your resume!
By creating your own projects, you create your own career opportunities.
You need to highlight your strengths and your unique qualities to stand out and get noticed in this crowded industry.