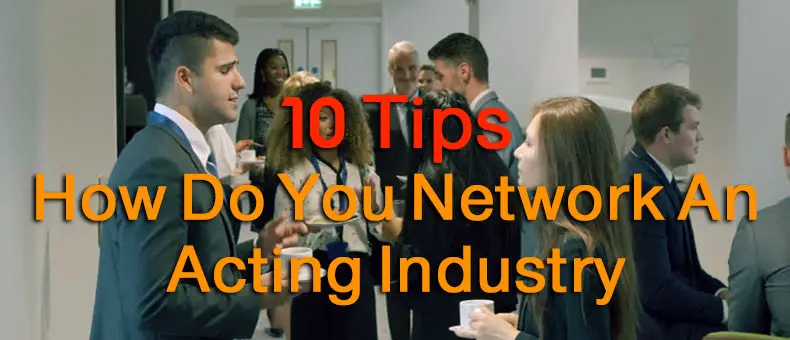 There is a saying that in life, 'it's all about who you know. There is no disputing that to get to any point in life, business, or career, you might need some help along the way, and that is where networking comes in.
10 Tips On How Do I Network An Acting Industry
The network you create is more or less everything. When you are in an environment filled with an elating and actuating network of people who will back you up and believe in you, you will most likely be successful in any venture, and the same holds true for acting. Although it is important to train at a well-known acting studio, it is likewise crucial that you know how to network in the movie industry. Below are a few tips to help you do that:
Table of Contents
#1 – Attend Events That Filmmakers, Writers, And Casting Directors Attend
As much as it is important to connect and interact with other actors, you must not lose sight of the main thing that is crucial to building your network – often, certain actors spend too much time with their fellow actors, and as a result, they have little or no time to spend with those who will help their career better, for instance, cast directors. If you want to build your network, you must attend occasions where you are sure to meet with directors, scriptwriters, producers, and casting directors such as screenings, workshops, and charity events. Find out those that are the 'big sharks' of the film industry, see the kinds of events that they attend, and try to meet up with them.
Although social media has made it really easy to connect with people, however, it will never be able to fully make up for the interaction that will ensue if people meet face-to-face. Still, you can make use of social media platforms to arrange a physical meeting – following the major players in the film industry on social media will give you access to events happening in the industry where you can meet up with major industry people and create expand your network.
#2 – Engage With Industry Professionals Online
Social media networks have proven to be very effective at helping people connect online, and you can use them to your advantage to connect with people in the film industry. A lot of cast directors and film producers are on platforms like Instagram and Twitter; you can follow them, connect with them, and keep abreast of the events going on around you.
There are some actors who have built relationships and even gotten jobs to play certain roles in movies through their connections with producers on social media. In websites such as LinkedIn, you are certain to meet with people who share the same interests and aspirations as you; however, there are some other websites that may not be popular but are designed for experts in the movie industry; you can also search for and join these websites and build your network in them.
#3 – Make Friends
The difference between making a friend and building your network is that behind networking, your main aim is to grow your chances of developing your career. On the other hand, when you make friends, there is an unfeigned intent to meet people with no strings attached and is therefore veritable. When you connect with people genuinely, that connection will most likely last for a long time, benefit both you and that person or group of people, and can even reach down to your children.
NOTE:
Make sure to surround yourself with people who share your passion and interest in films, be a student of your career, and think of others as students with you in the same class.
The friends that you make may someday stand beside you on stage when you win a movie award.
It is not enough to just know people in the industry from a distance, having a list of top 20 people in the industry that you can meet with and do an activity together is better than knowing 100 top people in the industry that you have no such connections with. In essence, if you are making friends for the purpose of advancing your career alone and not because you want to care about them, then, top people in the industry will seem unreachable to you because either the universe or even your subconscious mind will tell you that they are unreachable. It is when we make an effort to truly accommodate other people that we end up establishing relationships that will last for a long time.
#4 – Make Friends In Non-Industry Settings
Do not only make friends with people in the movie industry but also try to connect with people around you in any environment you find yourself in – your neighbors, a person you meet in a museum or a recreational center. Show honest concern for the world around you and make friends.
#5 – Become Genuinely Interested In Other People
The best way to make people like you and enjoy spending time with you is to "become genuinely interested in them" as noted in the book, "How to Win Friends and Influence People" authored by Dale Carnegie in the year 1936.
Do not concentrate on yourself when discussing with people. To build a network, you must listen to those you speak with, and ask them questions that concern their personal lives, their interests, and passions; when you do this, you show that you are concerned and that will make them feel special, and since everyone wants to feel special, so you will make fast friends.
#6 – Add Value To People's Lives
Make sure that as you build your network, you are always looking for an opportunity to add value to the lives of people and help them through your network. Nobody likes a person who always desires to receive but turns away from giving – if you want help from other people, you must be willing to help them. For example, if you have a friend who is a director and is looking for an actor that will fit a particular role, you can recommend another friend of yours who matches the role description perfectly.
If someone you know is looking for a very good health specialist, you can recommend a professional, or you can find out if your other friends know one.
NOTE: Always be on the lookout to provide any form of assistance to other people, you will be loved and respected, seen as dependable, and when you need help, they will be more than happy to support you.
#7 – Follow Up!
After meeting and interacting with people, take their contact information, and reach out to them as often as you can, ask about their families, and other important things in their lives. Don't contact people only because you want something out of them, stay tuned with issues and publishings in the industry, that way you can know when someone in your network has been promoted, released, or was featured in a movie or received an award, and do well to congratulate them.
If they or someone important in their life is having a birthday celebration or any other major event, you can send a greeting card or send your best wishes on any of the social media platforms.
Even though you are very busy, make time to arrange for an outing – you can just meet up at a café and have coffee with snacks, go see a movie, or meet up for dinner at a nice restaurant, all so you can interact with people and know more about them. Plan your time with the use of a calendar, especially one that has "to-do" lists, this makes you more coordinated, and you get to know when you will be free (your calendar will be everything, the more your network grows).
NOTE: Be careful not to forget you have an appointment, scheduling for a meet, and forgetting to attend cannot be characterized by any other word than rude. Also, try to send a message or call the person you want to meet so they can confirm if they have free time.
#8 – Be Consistent
Connecting with your network is not a one-time thing, that means you shouldn't only reach out one time and leave it at that. Be in constant contact with everyone in your network – in fact, it is recommended that you should try to contact your network at least a few times every year, say every four months; you may even set a reminder on Google Calendar to help you get in touch with your network regularly.
Keep in mind that you should be contacting people in your network for the purpose of determining their well-being not because you require a favor; you may attach a photograph of your recent advancement in your career at the footer of your mail that is meant to sell any gains in your career, don't make that announcement in every mail you send.
#9 – Intern, Volunteer, And Gain Experience
Look for production companies, and attend film festivals and film shoots that will allow you to participate as an intern or a volunteer. Make sure you are putting in every effort wherever you find yourself – do anything you can to get noticed even if it means making a supermarket run. As long as you continue to make yourself appear wherever there is a film shoot, you will gain know-how derived from experience in film productions, and you will also gain connections with top people in the industry and opportunities to develop your career.
#10 – Listen. Be Humble. Be Kind
All the tips that have been mentioned above will not produce any positive results if you don't have any of the following qualities:
Listening: When you give people a listening ear, they are more inclined to deliver to the fullest because every human nature wants to be heard. Furthermore, when you listen to other people, there is every chance that your mind will be opened to many opportunities and prospects.
Humility: Be open to learning from anyone, anywhere. A great philosopher once said, "the only true wisdom is in knowing you know nothing."
Kindness: When you are positive towards other people, they are very much likely to replicate that positivity towards you. If you want to succeed, you must be willing to give to others those things you hope to get from them, and you also feel good when you are kind to others.
Conclusion
The creation of your network will not happen in a day, and it will take months and even up to a year but don't make it look like it is a painful process because it could be fun. You get to meet and connect with other people, share ideas and opinions and at the end of the day, grow your career as an actor.
One other benefit of creating your network is that it helps you become coordinated – you will be keeping everything that is going on in your network in mind when you also consider that you have to grow that network by meeting other people, you carefully plan (organize). The task of building a network is not as difficult as it is time-consuming, and that is why it is advised to begin during the early stages of your career.
Share this article below if you believe people need to know about it … 🙂