Establishing a connection with your local theaters would be an opening door for your career path as an actor, in addition to that checking for their running shows and trying to get a role in the play is a big move to success. Achieving that will open the door for you not only to gain a more acting practice and experience but also to a wide community contact who are polishing and enhancing their acting craft just like yours and expedite your progress.
So before I guide you on how to find community theaters and start practicing your acting career I want to show you quick benefits of joining community theaters.
Table of Contents
5 Benefits Of Attending Acting Community Theaters
You'll learn more stuff from different theatrical career paths.
Community theatres are an excellent place to get acting experience.
You'll get more experience from the creativity of the designers.
You'll get into the field of theatrical acting by working with enthusiastic people that share the same interest.
Joining community theatre will help you to build your resume.
4 Steps – How To Start Finding and Joining A Community Theater
In order to find and attend the perfect community theater, you need to follow the below steps:
STEP 1 – Consider your location
Considering your location is important not only making it easy for you to attend such community theaters but also will reduce the cost of traveling.
STEP 2 – Consider assigning a budget
Assign a budget for your community theater, you should have an estimate of how much money you are willing to pay for a community theater expenses, in the end, it will be a beneficial training for you on the long run, some of those community theaters do not put their cost online so better try reaching out to them via phone calls or emails asking them about their costs and see whether their prices are within your budget. Your budget will further narrow the community theater options.
STEP 3 – Make a list of community theater options
STEP 4 – Visit them
Visit them and meet them, ask questions such as:
What type of plays they are preparing?
What type of roles they are requiring?
Is it a musical play they are preparing for?
Is singing required for the audition?
Is dancing required for the audition?
Ask them if there is a specific monologue they need you to audition for or it's up to you?
Auditions timings and dates?
19 Tips Auditioning for Community Theater
After you have found your desired local community theater from the above steps, now it is the time to prepare yourself for your first audition as per the director's requirements, I am advising you to be fully ready for the audition by following the below tips and tricks.
Learn more about the play you are auditioning for and check out what part or role you're auditioning for and the time period of your audition, this will help you to understand how to be prepared in order to get the role or part.
Double-check the rehearsal times of the role you are auditioning for to make sure it does not interfere with your personal schedule. If you discover late that you are not able to rehearse the role you've been selected for because it interferes then this will give you a bad reputation.
Prepare a monologue if they did not restrict you with one, be sure that they will ask you to recite a monologue in the audition, it is easy to find monologues on the internet, make sure it fits that character you are auditioning for and remember that the monologue should be about 2 minutes long and memorize it well.
Prepare and bring with you an extra copy of the monologue words as a reference in case you freeze during the audition.
Get more confidence in acting in front of an audience by practicing in front of your family or friends.
Develop an acting resume and bring it with you to the audition, don't forget to attach a picture of you with it, and remember, never lie about your experience in the resume cause this might have a fireback on you. Even if you have no past experience still you need to develop or create a professional-looking resume for you, for easy approach you may use online free cv and resume creation tools and add any special skills that you believe you have, include your contact details as well and if you have any past experience it is very important to mention it in your resume.
When the auditioning is for a musical or singing role, avoid picking a song from the same show for which you are auditioning, instead, pick something that showcases your best vocal performance and acting abilities, for instance, pick up a music piece from a Broadway that hasn't been used that much.
Prepare a second song just in case if they asked you for another option.
Bring a Sheet Music for your audition song, sometimes they will not even consider your audition if you don't have sheet music with you.
Dress well for the audition and make sure to wear comfortable and easy to move in clothes, comfortable reasonable clothes will add more to your confidence.
Again I remind you, always have a monologue, a song, and sheet music ready when you attend the audition.
Never come late to the audition, and if you don't know the exact time for your audition come early at the beginning of the whole audition just to be there ready without being late.
Make sure to be polite and say thank you when you enter, and never speak until spoken to.
Pay attention to the director's instructions as normally the directors are very supportive and will assist you to get through the audition.
If the audition includes dancing, then make sure you prepared your dance attire, and remember do not be shy and don't hide in the back cause they won't be able to cast you if they don't see you.
Also, be prepared to dance, at the audition, they may teach you a couple of steps of a small dancing piece from the play so the choreographer can distinguish on who has rhythm and who don't, so if you aren't a good dancer, simply practice a bit more before your audition and remember the dances they are requiring normally very basic moves.
Don't get discouraged if you see other auditionees have well noticeable talent, you never know what in the creative team's mind and you might have something special that they are looking for.
Do not be discouraged or disappointed if they stopped your audition in the middle of your singing or acting..etc this is either they liked your performance and already know exactly what part you're going to get, or they can tell what your talent is from the first part.
It's common that anyone could get rejected, if this happens to you don't be disappointed as many of the star actors nowadays had been rejected many times in their first few auditions, simply be prepared for another audition.
16 Rehearsal Tips For Your Theatrical Play Role
Now its the time for your rehearsal in the community theater with other groups of people working all of you on a certain theatrical project, I am giving you below some advice that helps you rehearse progressively: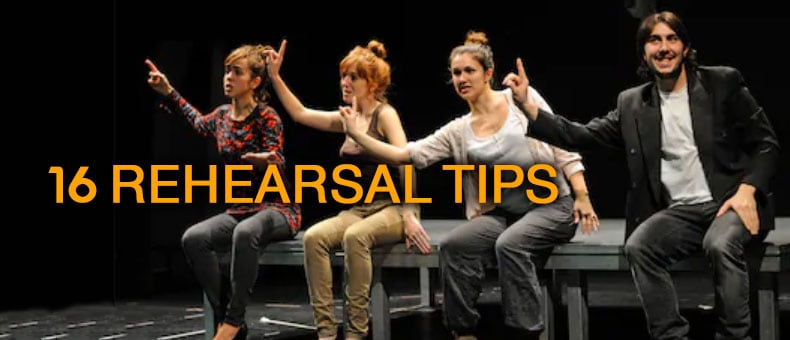 Don't be later and show up on time.
Be positive and patient while waiting for others, there will be those times when others will have their time of rehearsals.
If you can't make it on time for any reason like being sick or having an emergency, contact the audition director in advance, and in this case, you will show a responsible attitude to them as well as giving them the chance to schedule and do something else and not wasting time.
Have a notebook in hand with a pen and type all the director's / creative team instructions and notes so you won't forget one when the rehearsal ends, and practice all their instructions.
Don't be embarrassed to ask questions during the rehearsals to the director if you are confused about something or need something repeated, always be on top of all tasks and instructions so you won't make mistakes or show poor performance.
Be serious about your role, no matter what your role is either a leading role or a very basic one with no lines, do the best out of it, this will give the impression that you are serious about your acting career and you might have the chance to gain a bigger and more important roles next time.
Don't be intimidated by the already established or regular cast and think you will look newbie to them, instead, look for newbies in the cast and start from there and along the way make new friendships with others.
Expand your friendship and experience by getting involved with backstage tasks during your downtimes like helping to make props, or marking up the floor.. etc
It might be possible to face some issues or drama between the group of the cast, better to stay out of it and in case you find yourself involved try managing the situation wisely cause being in a cohesive group will be reflected positively in your onstage performance.
You might be asked to provide your own costume, be ready to prepare that in the first place and don't leave it to the last moment cause you might get disappointed. Also, be sure to have the costume approved by the director once you prepared it and not at the rehearsal day.
Always practice your parts at home which you've learned during the rehearsals, this will pop you out of other actors.
In case you have a conflict with someone, speak directly to that person or escalate it to the director but never spreading gossip cause the issue will be bigger.
Always accept any constructive criticism about your performance and do not take it personally, all actors even professional actors will be guided by the director or the choreographer, regardless of your acting experience just be professional and accept any criticism.
Warm-up and stretch your vocal cords and limbs before every rehearsal, with the group rehearsal there might be no time for you to warm yourself up.
Don't get directed by other fellow actors, and don't direct others as well, this is a bad habit that actors do they think this might help to improve their performance but it doesn't, leave direction only and strictly to the director.
The director is the man in charge so if you are uncomfortable with something, speak to him directly mostly when he understands your situation he might rework or amend your part.
10 Tips For Your Community Theater Performance
Having friendly faces in the crowd of the audience will give you more energy during your performance, so try your best to invite your family and friends once you know the date of the show.
Take the initiative and promote your show to everyone you know, use your social media to advertise it.
Don't lose your focus if you mess up something or you forget a line, keep going and treat it like it was intentional cause the audience will not even realize or remember the mistake.
Before the show starts and during the intervals, use the bathroom, nothing worse than losing your focus during the show because of your bathroom needs.
Show your backstage crew respect and thank them whenever you see them around, they are the unseen heroes of every show that are being recognized as the onstage actors and without them, the show will not complete.
Don't eat in your costume cause this might cause trouble to you by the director.
Break down your show performance into small parts will make it easy for you to focus, to remember your lines and rehearsals, and to reduce your nervousness, keep this in mind as a valuable tip.
If you are playing a comedy role in a comedy play, it is normal that sometimes the audience doesn't laugh as expected so don't freak out of that as some audience's reactions differ from others or they might be theatergoers and doesn't mean they didn't find it funny.
Make sure to thank everyone involved in the play when the play is over, appreciation is part of professionalism and it's always remembered.
Always Give as much energy as possible in your performance cause most people of the crowd will be seeing the show for the first time.
Conclusion
Community theaters are a good starting point for any new actor/actress who is willing to take acting as a career, joining a community or local theater regardless of what your role will be is considered as an achievement for your career path and would definitely add a lot of benefit to you as a new actor if not a professional actor, do your best to find the perfect community theater and get involved.