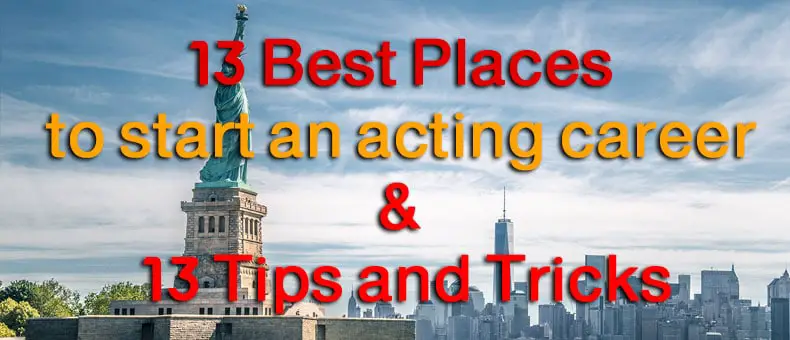 Often, we say 'purpose without pursuit is dead', because a dream not chased will not be actualized. So for you to fulfill your desire to become a world-renowned actor, you must pursue it in places where you can receive proper help and a proper platform to achieve this dream.
Table of Contents
Why Do I Need To Move To Big Cities To Become An Actor?
There are several reasons for you to start your career in big cities, where auditions, casting, and training are at their best, so far so good, the best cities for actors, remains L.A. and New York, they are like the home of movies.
You moving to these megacities will afford you the opportunity to:
Work On Acting Tools.
Find Talent Agents.
Get The Best Training
The best training you can get through acting classes/schools, summer programs, and even higher education BFA and MFA, are available in the big cities. They have the best of everything you will require to turn yourself into an actor.
Since you are an actor with no experience, you relish the opportunity to learn as much as you can from acting schools/classes. If you are a teenager, summer programs will be beneficial for you, being among other teens learning with the same passion and desire to become a professional will give you more fire, you could try out ACTeen if you are in N.Y., The Actor Space West in L.A., and Alliance Theater in Atlanta. You can also further your education through BFA and MFA.
Work On Acting Tools
Acting tools are what actors use in interpreting a character, and acting tools are everything you are required to use in performing a role. They are:
Body – Your body is the mirror that displays the character you are acting. You use your body to create the picture of an imaginative character, and if you are moving subtly or jumping around, you are sending a message with your body movement. Usually, acting coaches are employed to help actors with this aspect of acting.
Note:
Before hiring an acting coach, you must already be acquainted with acting. You should at least have finished your
acting course
.
Clothes – Going for an audition, it is essential you know how to use your clothes to pass messages across to the audience, this is another tool for actors to communicate.
Hair – The choice of hairstyle you choose, how you pack your hair, and how you stroke it, passes a message to the audience. Perfecting this tool is also essential, especially for ladies.
Voicing – Your voice must be well-coordinated, so you convey the proper message to the audience by learning how to project your voice. People can sense confidence from the tone you choose to use when speaking.
Face – Facial expressions are also meant through which actors express their characters' emotions; it must be timed to perfection.
Find Talent Agents
Getting an agent to represent you is one of the benefits of being in the big cities because it is far easier to find one. However, you play the most significant role in getting an agent, because the agent must be convinced of your talent and skills, so the onus is on you to show him that you are ready to represent.
These steps will help you;
Professionalism – You must be professional enough to catch the eye of agents.
Proper research – You must do appropriate research for agents, and you must look for agents you are compatible with, ask friends and colleagues to make recommendations.
Work the agent – You must be willing to push the agent to accept you, some might accept you when they perceive the determination and hunger, even after saying no initially.
Enter Into Several Auditions
Getting roles to audition for is another reason you should go to the big cities because once you get an agent, he will help secure these roles for you. But in a case where you do not have an agent, then surfing the internet, looking out for ads, and alerting your colleagues will be an excellent way to get into auditions. This is also important for building your stage experience and giving you the platform to showcase your talent and all you have learned.
NOTE: I think you will like to know the best cities for acting auditions, and there are three major cities Los Angeles, London, and New York.
Build Your Resume
A great resume will help you in the long run, when you have a top-notch resume, it gives your agent and extra boost to sell you to directors. Your resume should carry all the necessary information about you, your experience so far, and where you got the experience. You that started acting in a top city and was tutored in a good school, with the right level of experience, you will have the edge over your peers, not just on paper but in performance also.
Where To Move If You Want To Be An Actor?
When actors relocate sometimes, it is because they are in search of greener pasture or to find their feet once again. For actors moving to big cities, one thing is sure, they want a more significant chunk of the pie, they want more prominent roles, and they want to set off their careers. If you have decided to move to a big city, then you must answer the question of, where?
Film Making Cities Vs Theatre Production Cities
There are numerous places to move to actualize your dream of becoming an actor. I will list these places based on their strength in film making and theatre production.
They are;
| Film Making Cities | Theater Production Cities |
| --- | --- |
| Los Angeles | New York |
| Atlanta | Chicago |
| New Orleans | Dallas/Ft. Worth |
| Seattle | Philadelphia |
| Minneapolis/St. Paul | San Francisco/Oakland/Berkeley |
| Pittsburgh | Cleveland |
| Albuquerque | Hartford |
| Austin | Phoenix |
| Cincinnati | Portland, Oregon |
| Boston | San Diego |
| Denver | |
| Miami | |
These are the places you should go to if you want to become an actor. While L.A. leads the industry of film making, T.V., and commercials, New York runs riot on theatre productions, making them the two outstanding locations for aspiring actors. This singular reason has increased the competitive markets for actors and making it difficult for aspiring actors to hit their mark. Since L.A. and New York are stiff in competition and also cost of living, this births the next question;
Where Is Best To Live As An Actor?
Having examined all the above locations, I will suggest the best place to live as an actor, to get almost the same exposure as L.A. and New York, with the relatively reasonable cost of living in Atlanta.
Atlanta is booming, and it is still rising in terms of film and television production, this is due to the tax incentive introduced in Georgia. It is home to some Marvel and Disney productions.
13 To-Do Tricks And Tips For Actors Relocating To A Big City
Savings: It is important for you to have saved enough money, to carry you for three months without employment, covering your rent and feeding.
Connect with Your Alumni: If you just graduated from school, you should reach out to your alumni for advice, because at least one must have taken the step you are about to take. Use social media platforms or through mail to link up.
Hold Up On Lease: Do not be quick to lease a property, because you might just have the need to move again, so opt for temporary accommodation or sub-letting for few months.
Get A New Number: Change your phone number, which you will use in your resume, and for auditions.
Get A Job for Upkeep: It is important you get a job to keep you afloat, so you do not become stranded in the new city.
Tour The City: Get to know the city, you should visit the important cites.
Engage in A Community: Join a community related to your passion, like a football fan club. This will enable you to settle in quickly.
Change Your Wardrobe: You must check out the fashion trends with top actors in the city, so you do not look odd during auditions.
Get A Sound Vocal Coach: You should get a voice coach to prep you up because auditions will be coming regularly.
Internship: It is wisdom to learn smart and what better way than to intern with a movie director.
Join an Acting Class: You must learn as much as possible, looking for a good acting school will be a wise step to take.
Have A Good Plan: You can not move an inch without a plan, you must have everything planned out, even to your eating routine.
Prepare to Meet the Best Actors: For some get overwhelmed and lost when they mix up with professionals, you must prepare mentally for your meetings with top actors, during auditions or anywhere else, you should keep cool.
13 Best Places To Start An Acting Career
Atlanta: The city of Atlanta is widely projected as the next Hollywood, because of its rapid increase in productions. Since their tax rate is low, it's fast becoming the casting headquarters of most companies. Atlanta has a low cost of living, which makes it the destination of many upcoming actors.
Chicago: Chicago has been tagged as king of improv and comedy clubs. This city has bred so many comedians, and theatre actors, with the NBC franchise located there, more television productions and acting opportunities are available.
New Orleans: The rise of production activities in the city of New Orleans is very similar to that of Atlanta. A good tax regulation opens the city up for more boom in a couple of years.
Austin: The excellent work being done by the University of Texas-Austin filmmakers and actors, coupled with their good tax regulation, provides a local network of actors with opportunities to venture into animation, video games, television, and films.
Boston: Boston is home to some high ranking acting schools and conservatories, such as Boston Conservatory at Berklee, Emerson College, American Repertory Theater at Harvard, Boston University, etc. Which provides graduates with an opportunity to make use of their alumni network.
Miami: Miami has the second biggest performing arts theatre after the Lincoln Center in New York. Aside from that, the hub of Spanish based movies in America.
San Francisco: Though San Francisco cannot rival Los Angeles in California, it is holding up pretty good for itself, boosting of a drama school in Acting in London's top 20 best acting schools.
Vancouver: Vancouver has a smaller market when placed side by side cities like L.A., New York, etc. it has great potential, and this makes it a favored destination for upcoming actors.
Toronto: The production capacity of this city is similar to that of Vancouver. The tax incentive also helps to improve its market and its closeness to Hollywood, just a 3hour flight away.
Albuquerque: Albuquerque is a promising city for local acts, as they are being boosted by N.M Film Office and ABQ Actors Studio in training and integrating upcoming and seasoned actors. So if you are asking 'should actors move to Albuquerque, my answer is yes.
Portland: Portland is an excellent site for movies which has attracted Hollywood, and this has led to the locals being included in productions. It's also a hood destination for upcoming acts, and the houses are very affordable.
Manchester: Manchester hosts BBC's headquarters, and this has open this great city for reality T.V., T.V. shows, and films. It has quality theatres for stage actors also to showcase their talents.
Dublin: Dublin has produced some fine Hollywood actors over the years, so starting from here will be great also. The city has everything required and even casting is done in Dublin.
Note: Canada possesses some great cities with impressive production capabilities, so when moving to Canada for acting, check out.
Conclusion
Experience has shown that moving to big cities does not guarantee you success, but provide you with a great opportunity to show what you have. It's not enough for you to get into these cities, but to put in more than your best so you will become a success. Every dream chased can be accomplished.
Share this article below if you believe people need to know about it … 🙂