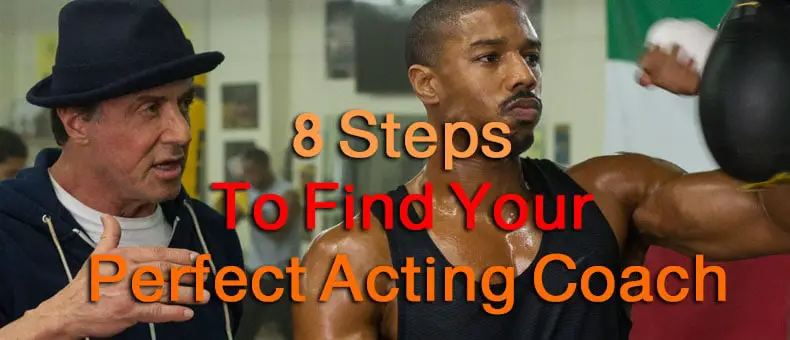 Due to the high demands of professionals in the film making industry, the bar has been raised for aspiring new actors/actresses, this has created a healthy environment for self-improvement and increased the demand for an acting coach, to guide and nurture actors with acting skills and techniques especially do not have acting experience and want to be an actor.
So before I reveal the 8 steps to finding your perfect acting coach, let me provide you with a brief understanding of what acting coaches do.
Table of Contents
What does an acting coach do?
Acting coaches are arrayed based on their specializations, and these specializations determine what they do for an actor. An acting coach helps in:
Decision Making.
Monologue Development.
Nerve Calming.
Confidence Building.
Liaising Between Directors and Actors.
Audience Control.
Character Examination.
Rehearsing Roles.
Recognizing Strengths and Weaknesses.
Decision Making
In making critical decisions, expert analysis and advice are often needed. The acting coach discusses every aspect of film making from audition to being on-set. An acting coach will provide you with guides in picking hairstyles, clothing, and make-up, etc… These guides help you make the right decisions and appear suitable for the role, especially in auditions.
Monologue Development
In auditioning, the preparation of monologue is critical; hence actors seek coaches to help create a catchy and useful monologue. A monologue is a dramatic speech or a scene where one character is speaking.
Nerve Calming
Most times, talented actors falter because of stage fright in theatrical acting or in front of the camera, this emerges due to uneasy nerves. An acting coach comes in to provide techniques and skills to help in calming nerves, whether on stage or before getting to the stage or on set before the shooting.
NOTE: For most debutants or actors going for auditions, it is crucial to be able to put their nerves in check, because everyone gets nervous once in a while.
Confidence Building
A lack of confidence in many promising acts has made them fall away or lost their relevance in the industry after a big break. This lack of confidence has led many in search of acting coaches, to help them find their strengths and expose them to their natural comfort zone.
NOTE: Acknowledging your strengths and weaknesses boosts the confidence of actors.
Liaising Between Directors and Actors
Directors are most times not readily available to help actors perfect their role, and this is where acting coaches come in, they bridge the gap between the Director and the actor. They help to explain the characters to the actor better, and also teach them mannerism to perfection.
Emotional Balancing
When an actor is highly talented, he is termed a natural, but beyond talent comes skill. There are many skills an acting coach can pass on to an actor. Still, mastering and balancing emotions is top on that list, and this is because acting without conveying the proper emotions is useless, so acting coaches are hired to help actors hit this emotional note of scenes.
Audience Control
Audience control applies mainly to stage performers who have an audience to captivate, but above acting or performing on stage, there is a need to know how to control your audience through your expressions and charisma. An acting coach helps the performer to project ideas to the audience, which is very useful when auditioning.
Character Examination
Actors paint pictures of the Director's imagination. For this to be possible, you need to understand the mannerism of the character to execute the role to perfection. An acting coach that is specialized in this area will teach and guide you to fully understand a character and portray it.
Memorizing Lines
Remembering your lines is also very important, and it requires good techniques. Aside from trying to store the lines in your head, there are external skills to help you in remembering your lines. There is also the power of continuous practice with a mirror, but you cannot rule out the role of an acting coach if you want to stand out.
Rehearsing Roles
Rehearsing your role is usually the harder part, where you have to put everything to practice. The acting coach aids you in your rehearsal and practice so that you can attain perfection. You can not confuse an acting class and coach, because an acting coach works privately with an individual to improve any area of weakness.
Recognizing Strength and Weakness
To become a better actor and display a high level of professionalism, you must know your niche, and this implies that you must know your strength and enhance your weaknesses. An acting coach spots these strengths and weaknesses, and help you improve on them.
Dialect Learning
Sometimes you will be required to speak a foreign language in a movie role. An acting coach who is specialized in different dialects will be your guide, the coach will help you train your voice by breaking speech pattern and teaching you how to perfect the required accent.
NOTE: The dialect coach works with you uniquely, depending on how you preferred to be guided on-set, so you can deliver your role accurately.
How To Find A Good Acting Coach?
Finding a good acting coach or suitable acting coach is a herculean task, and it's like going shopping. You have different varieties and designs in front of you, with the job of selecting the perfect dress, often people opt for a second opinion to help them.
The below steps will assist you in finding a good acting coach:
What You Want.
Consider Your Financial Strength and a Budget.
Search Online for Acting Coach Around You.
Investigate The Websites (if any).
Check Other Testimonials.
Referrals and Personal Recommendation.
On Visit Their Offices (if any).
[STEP – 1] What You Want
Sometimes, this comes first, but you can also determine it now if you have not already done so. Ask yourself the ultimate question 'why do I need an acting coach?' maybe you want to boost your confidence, improve on your character understanding, and finding your emotional balance, find your answer and write it down because it will be an essential guide when it's time to choose a coach. Remember what I said; this is similar to going shopping, you are more confused when you're out without a shopping list.
[STEP – 2] Consider The Location
Most of these acting coaches, if not all, have an acting class they tutor, so it is only wise to sort for the best around your region of comfort. Your regions of comfort are areas or zones not too far from your home where you reside, and this is necessary to reduce travel expenses and stress. So map out an area based on the availability of coaches, you can get this information online, then zero in a convenient region.
[STEP – 3] Consider Your Financial Strength and a Budget
The next thing to consider is your financial capabilities, and you must be realistic when it comes to this aspect, you must not go beyond what you can afford, this is very important for you to consider. Knowing your financial strength should help you make your lists, arranging the coaches based on what you can pay.
NOTE: The minimum fee charged by an acting coach per hour is about $80, but on the average, you will likely get one between $90-$100 per hour.
[STEP – 4] Search Online for Acting Coach Around You
The next step is to find all the acting coaches in your mapped region. Information like this is readily available online, get these lists, and put a number to them because you will investigate them all.
[STEP – 5] Investigate the Websites (if any)
To increase your effectiveness, you must not and cannot do a random check online and that's all. I advise you to do a thorough investigation by visiting their websites for those who have. To get the necessary information on the coach and their background, check for the number of years in practice, their philosophies, check for affiliations with organizations or individuals of interest to you and visit their social media platforms.
[STEP – 6] Check Others Testimonials
Considering the testimony of others is also essential and critical in selecting an acting coach, by searching for reviews from people as well as past students, to hear from them and you will be amazed at the reports you will get.
[STEP – 7] Visit Their Offices (if any)
You will have to visit their offices to confirm all you read on their website. Some persons make their decisions based on what they investigated from the sites alone. When you meet the coach one on one, you can better access the personality of the coach and know if he/she will be compatible with you.
[STEP – 8] Referrals and Personal Recommendation
Getting referrals and recommendations from friends and colleagues is also very helpful, but is still subject to the steps above when you have this recommendation from friends and colleagues, it helps you minimize the stress of surfing the internet. To utilize this, you must let people know you are searching for an acting coach. That's when you can get a recommendation from them.
Conclusion
As earlier stated, it is often a herculean task to pick the right and perfect acting coach for you. However, this has been made easy for you; following the above steps will assist you big time finding the perfect acting coach.
Share this article below if you believe people need to know about it … 🙂